The cart is empty
 
Borderies 64 Grosperrin
This very old Cognac comes from a joint ownership which was established when the winegrower died several years ago. His widow and his children manage the inheritance with prudence and patience, in memory of this man. One of the grandchildren took over the property, which has since become a large estate in the Borderies. The grandfather's stock is however managed separately, and housed in a separate winery in the centre of the village of Burie, located in the heart of the Borderies. It is through a sworn broker that we became owners of this exceptional lot. Since its purchase, it has been aged in our cellar in Saintes, on the banks of the Charente river. A very slight reduction was made more than three years ago.
Old gold colour with amber highlights. On the first nose, the flowery side of Borderies expresses itself clearly, with notes of violet candy (yes, it does exist!), dried flowers, spicy roses. The second nose is deeper, denser, and one can distinguish an elegant rancio, not very woody, caused by the oxidation of the fats contained in the alcohol, which time has made noble. The spices are more frank, cigar box, liquorice, more "mature". In the mouth, the attack is frank, mineral, one is immediately seized by the quality. The development is both powerful and contained, the texture is oily. The long finish joins the aromas perceived on the nose. A lot of elegance, a very beautiful Borderies.
Silver medal, Concours Mondial de Bruxelles, 2019.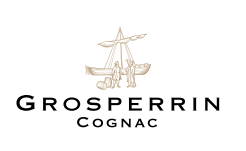 Data sheet
Contenance

70 cl

Degré

52.1%

Embouteilleur

Grosperrin

Packaging

Avec étui

region

Borderies

Pays

France